Regia: Alfred Hitchcock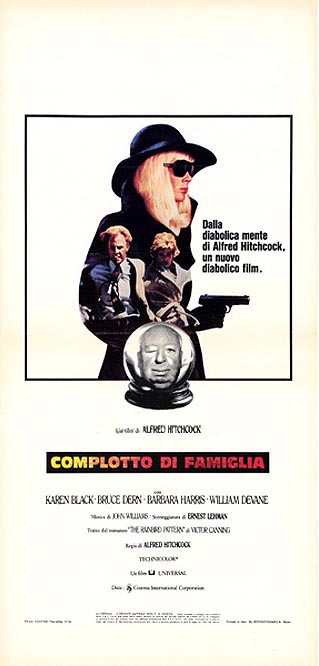 Scritto da:Victor Canning (novella)
Ernest Lehman
Genere: Comedy / Thriller
Prodotto da: Alfred Hitchcock
Original Music by: John Williams
Fotografia di: Leonard J. South
Montaggio di: J. Terry Williams
Scenografie di: Henry Bumstead
Arredatore: James W. Payne
Costumi di: Edith Head
Trucco: Jack Barron
Direttore di produzione: Ernest B. Wehmeyer
Aiuto regista: Wayne A. Farlow .... secondo assistente regia
Howard G. Kazanjian .... primo assistente regia
Art Department: Thomas Wright
Sonoro : James R. Alexander
Robert L. Hoyt
Roger Heman Jr. .... sound re-recording mixer
Earl Madery .... sound re-recording mixer
Roger Sword .... supervising sound editor
Visual Effects: Albert Whitlock
Production Companies: Universal Pictures [us]
Distributori: MCA/Universal [us] (laserdisc)
Universal Pictures [us]
Universal Studios Home Video [us] (DVD)
Altre Compagnie: Universal Title titles and opticals
Cast:

Karen Black

....

Fran

Bruce Dern

....

George

Barbara Harris

....

Blanche

William Devane

....

Adamson

Ed Lauter

....

Maloney

Cathleen Nesbitt

....

Julia Rainbird

Katherine Helmond

....

Mrs. Maloney

Warren J. Kemmerling

....

Grandison

Edith Atwater

....

Mrs. Clay

William Prince

....

Bishop

Nicholas Colasanto

....

Constantine

Marge Redmond

....

Mrs. Hannagan

John Lehne

....

Bush

Charles Tyner

....

Wheeler

Alexander Lockwood

....

Parson

Martin West

....

Sanger

resto del cast in ordine alfabetico:

Alfred Hitchcock

....

Silhouette at office of Vital Statistics

Louise Lorimer

....

Ida Cookson

Kate Murtagh

....

John Steadman

....

Old man in cemetary

Clint Young

....
Controfigure :
Dick Warlock .... stunts
Jesse Wayne .... stunt driver
Altro personale:
Peggy Robertson .... assistant to Mr. Hitchcock
Lois Thurman .... script supervisor
Charles Lippincott .... publicist
Tim Ryan .... dolly grip

Alias:
Missing Heir (1976) (USA) (working title)
Arvet (1976) (Sweden) [sv]
Complot de famille (1976) (France) [fr]
Complotto di famiglia (1976) (Italy) [it]
Familiengrab (1976) (West Germany) [de]
Family Plot - den enes d°d... (1976) (Denmark) [da]
Intriga em FamÝlia (1976) (Portugal) [pt]
Oikogeneiaki synomossia (1976) (Greece) [el]
Perint÷ (1976) (Finland) [fi]
Trama Macabra (1976) (Brazil) [pt]
Trama macabra (1976) (Argentina) [es]
Trama, La (1976) (Spain) [es]
Yoreshet (1976) (Israel: Hebrew title) [iw]


Intryga rodzinna (1976) (Polonia) [PL]

Durata: 121 min
NazionalitÓ: USA
Lingua: English
Colore: Color (Technicolor)
Sonoro: Mono (Westrex Recording System)
Divieti: Finland:K-12 / UK:PG / USA:P
Formato originale pellicola: 1,37 : 1



Sinossi:
Un'anziana e ricca signora si rivolge alla giovane veggente Blanche Tyler promettendole diecimila dollari se le ritroverÓ un nipote illegittimo abbandonato quarant'anni prima per il timore di uno scandalo e al quale ora, pentita, ella intende lasciare tutto il suo patrimonio. Aiutata da George, l'uomo con cui convive e che, fallito come attore, fa il tassista, Blanche si getta a corpo morto alla ricerca dello scomparso, e finalmente lo ritrova sotto le mentite spoglie di Arthur Adamson, gioielliere. Costui, che da giovane s'Ŕ liberato dei genitori adottivi facendo appiccare da un complice, John Maloney, il fuoco alla loro casa, e che ora, aiutato dalla sua donna, Frane, s'Ŕ specializzato in sequestri di persona, teme che l'interesse di Blanche e George per lui, del quale s'Ŕ accorto, abbia qualcosa che fare con la sua segreta attivitÓ criminosa. Quando, fallito con la sua morte un tentativo di Maloney di uccidere entrambi, il falso Adamson saprÓ dalla bocca stessa di Blanche il motivo delle sue ricerche, le circostanze - la giovane l'ha sorpreso nel bel mezzo di un sequestro di persona - lo convinceranno non esservi altra strada che quella di eliminarla inscenando un suicidio. Il tempestivo intervento di George, per˛, non solo gli impedirÓ di attuare il suo piano, ma frutterÓ al tassista e alla sua amica la sostanziosa taglia posta sul capo del furfante e della sua amica.